My Raymore, MO Kitchen Remodel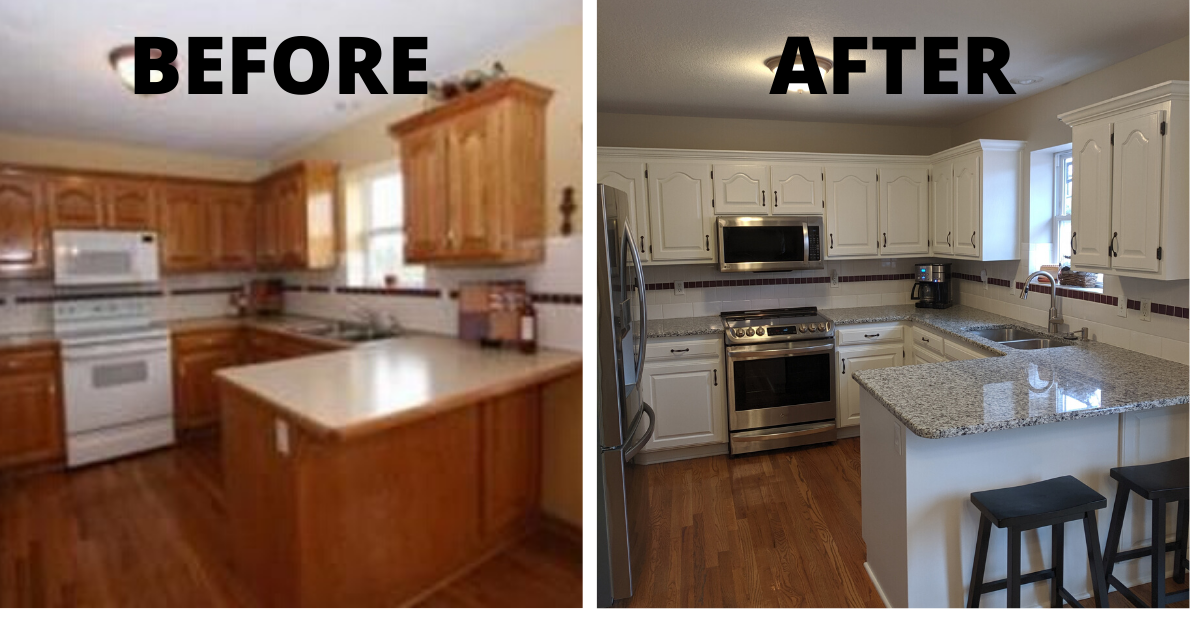 My wife and I recently finished up remodeling our kitchen. I had no idea we were going to take this project on! It all started in the baby's room, painting it from pink to blue, as we were expecting our first baby boy after two girls. Everyone knows that getting the baby's nursery ready, is the number one priority before the baby arrives
Changing the baby's bedroom trim from oak to white, was a very important priority to my wife. It's crazy, the projects you decide to do, when you find out you're going to be welcoming a new little one into the world!
Painting Kitchen Cabinets
Our kitchen remodel began with painting the cabinets from oak to white, which included new cabinet hardware that we purchased from our local Home Depot. Then, on to the new stainless-steel appliances from Nebraska Furniture Mart. I thought we were done at that point, but as I would find out, one thing leads to another! Next thing you know, we had NFM back at our home installing new granite countertops, and a new under mount stainless steel kitchen sink! It didn't stop there folks!
The kitchen was looking so great, that the walls needed a new paint job. We went all in, and decided to paint the walls the popular Sherwin Williams Agreeable grey!
Pregnancy Calculator is the Motiving Progression
My wife blamed all of these projects on the nesting thing, the time frame in pregnancy when natural instincts kick in, and motivation increases to get projects done before the baby arrives.
Whatever the cause, we needed to do some upgrades in our kitchen for quite some time. Being a REALTOR®, I am aware of simple upgrades a homeowner can do to increase the value and appeal of their home. It was definitely time for us to do a few simple updates around here!
I have shown several homes for sale in Lee's Summit MO, and several houses for sale Raymore, MO recently. All of these homes on the market had a common theme that I noticed. All of these houses had new stainless-steel appliances installed, and all of them had new granite countertops. These are two fairly simple updates you can make to your home, to give it a fresh now look. I'm sure glad that we took the opportunity to make these updates to our home.
If you're looking to sell your home in Raymore, MO, Lee's Summit, or the Kansas City area, consider a minor kitchen remodel as your first priority. The kitchen is the most important area of the home. Families spend a lot time eating meals together in the kitchen, as well as entertaining friends and relatives there. If you're a buyer or seller, one of the most inexpensive ways to update your home is to update kitchen. Studies show, that you will get the best return on investment when you sell your home with a fresh, more updated kitchen. A few minor upgrades can go a long way in updating your home home!